MERP is also offered in Canada at the Canadian College of Naturopathic Medicine (CCNM) in Toronto, Ontario.
---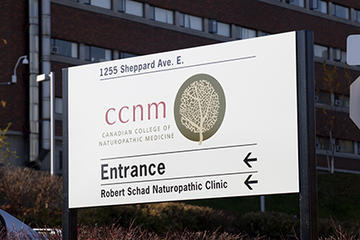 The program is livestreamed between CCNM and the MERP campus in Miramar, Florida. Canadian students participate in all the same learning activities as the Miramar students.  The program in Canada is supported by an onsite MERP faculty member who will answer questions and facilitate academic activities for Toronto-based students. In addition, Canadian students are able to regularly interact with Miramar MERP faculty via telephone, email, Skype and/or group videoconferencing.
Academic Calendar
Check-in for MERP's Canada students will be on the same day as orientation, and classes will begin the following day.

Canadian Program Tuition and Refund Policy
The program tuition is $13,500 USD. Students may apply for loans from Canadian private lenders. Provincial loans are not available for MERP. Canadian Nationals who enroll in MERP Toronto, Canada will receive a $2,000 USD tuition grant. The MERP Refund Policy also applies to Canadian students.

Housing
On-campus housing will be available to MERP-Toronto students at the Canadian College of Neuropathic Medicine (CCNM). Housing is limited and can be reserved on a first-come, first-served basis. Students who do not secure on-campus housing are responsible for arranging their own accommodations. The CCNM housing database can be used to assist in searching for apartments.

Download the Community Guide
To learn more, Download our Community Guide for more information on the program, locations, transportation, and much more.